Stumbled upon this article. It looks like the "Birther" argument is still alive even after Donald Trump gave up on the idea. But now it is even a little more hilarious as people are trying to have the president removed from the ballot in
Kansas
. Especially since Kansas will overwhelmingly vote republican anyway. Here is the
article
.
Orly Taitz, Birther, Sues to Remove Obama from Kansas Ballot
by: John Celock
A Kansas judge has granted an Oct. 3 court hearing to birther queen Orly Taitz in her lawsuit that seeks to keep President Barack Obama off of the Sunflower State's ballot because of what she says are questions about his U.S. citizenship.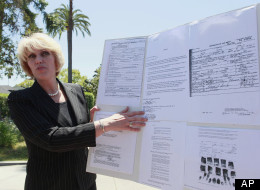 Orly Taitz has an Oct. 3 hearing in Kansas on her birther lawsuit.
Taitz, a California dentist and
lawyer
, announced on her website Thursday evening that Kansas District Court Judge Larry Hendricks has granted her a hearing in her
lawsuit
that seeks to overturn a decision by the state Objections Board to keep Obama on the ballot. The Objections Board ruled Monday -- over Taitz' objection -- to drop plans to consider the removal of Obama from the ballot after Joe Montgomery, a Manhattan, Kan., resident, withdrew his challenge to the president's candidacy.
In the lawsuit, Taitz and Kansas resident Roger Walters named Kansas Secretary of State Kris Kobach (R) and the Objections Board, saying that the board ignored evidence they claim should disqualify Obama from the ballot. Taitz and Walters cite alleged "
forgery and fraud
" to Obama's birth certificate and Taitz' claims that Obama is using a fake Social Security number from Connecticut. The lawsuit says Taitz provided this information to Kobach prior to Monday's board meeting, and Kobach did not let her testify.
Montgomery, a Kansas State University staffer, filed the objection last week to Obama's eligibility, saying the president could not be a U.S. citizen because his father was a citizen of the United Kingdom and Kenya. Citizenship comes "primarily" through the father, the objection said. Obama's mother and maternal grandparents are Kansas natives. During a Sept. 14 meeting, the Objections Board -- consisting of Kobach, Lt. Gov. Jeff Colyer (R) and Attorney General Derek Schmidt (R) -- voted to delay a final decision on Obama's eligibility until Monday. Board members said they wanted more information from Hawaiian officials on Obama's birth certificate and cited concerns that Obama's campaign failed to send a representative to the meeting and instead sent a letter from campaign attorney Kip Wainscott.
Montgomery withdrew the objection on Sept. 15, citing threats that he said he and his family had received. During Monday's meeting, Taitz told Kobach, along with representatives for Colyer and Schmidt, that Montgomery could not withdraw his objections because he was doing so "under duress," a point she also made in the lawsuit. Taitz also claimed in the lawsuit that Montgomery did not prove the harassment.
Kobach let Taitz briefly speak to the board Monday, even though he had previously said the only people who could participate in the meeting were Montgomery and board members. Topeka Councilman Chad Manspeaker (D), who attended the board meeting, said Kobach did not allow Taitz to make her full statement. The birther case has drawn criticism to the little-known board. Cher tweeted that the Kansas Republican Party was "beneath slime," while state Rep. Ann Mah (D-Topeka) said the board turned the state into a "laughing stock again." State GOP officials stressed the birther movement does not represent the state Republican Party.
On her website, Taitz appeals to supporters to help fund her October trip to Topeka for the court hearing. Taitz is due to attend a hearing in Mississippi next week in one of several other lawsuits she has filed. "Supporters are urged to be in the courtroom and donate to Dr. Taitz in order help with expenses of her flight to
Kansas
for the second time and litigation expenses," Taitz wrote on her website.